Aishwarya Rai Bachchan was spotted at Karan Johar's Christmas dinner party yesterday, and her long multi-colour maxi dress could actually make a perfect date night outfit.
Celebrities are known to experiment and show-off their fashion tastes all the time, but it is rarely possible for common people to pull off any of these fashion extravaganzas in real life – simply because it seems to suit the reel life better. But there are instances when we can actually take inspirations from celeb wardrobes and adapt them into our wardrobes. There are some B-town beauties who always make stunning appearances – be it awards, be it parties or even those gym clicks. And one of these beauties, Mrs. Bachchan, is known for making stunning statements with her dresses. Remember her striking dresses at Cannes?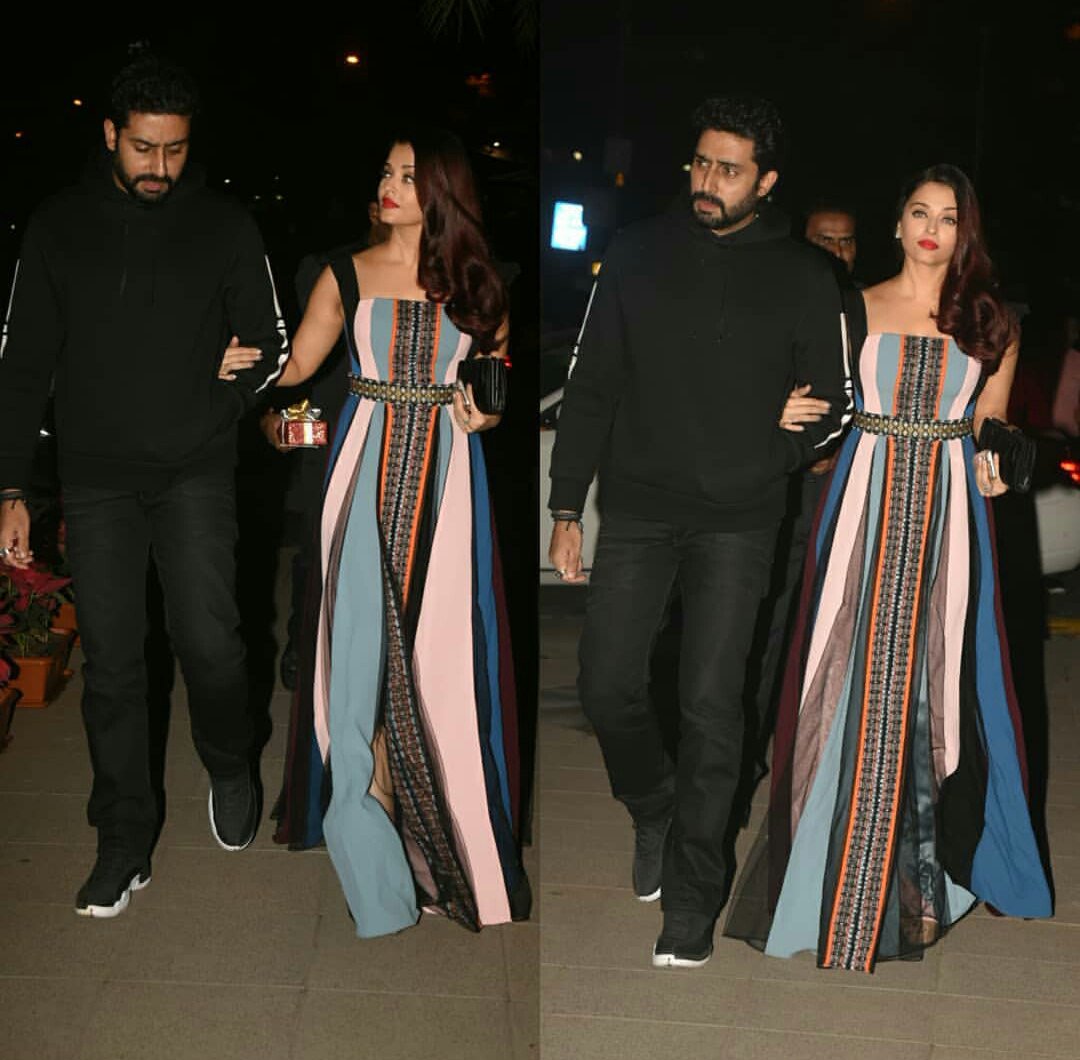 On Christmas Eve, Karan Johar hosted a Christmas dinner party and it was star-studded with Bollywood celeb appearances, but it was Aishwarya Rai Bachchan who stole the night with her beautiful dress. The multicolour maxi-gown with sheer panels and a striking printed design panel in the front absolutely arrests anyone's attention. The sleeveless flowy sheer gown was designed by a Lebanese designer named Hussein Bazaza and the dress is an absolute fashion masterpiece.
The strips of multicolour bands of sheer perfectly accentuated the former Miss World's  body and the clinched-at-the-waist metallic styled belt, with a straight neckline made it a simple yet elegant night gown. It all just got a lot better with side-swept flowy-curly hair, her signature bold-red lipstick, thickly lined eyes and a black clutch – she gave out fashion lessons of how to look simple yet elegant. So do you already want to get this dress? Well, go ahead if you don't mind spending about Rs 2.5 lakh ($4000) for just the dress.