Apple today released the first public beta version of its iOS 12 that is compatible with iPhone, iPad, and iPod touch models; and the best part – one doesn't need to have signed up for the Apple Developer Program to try out iOS 12 Beta version, ahead of its official launch.
If you really want to try out the unreleased version of Apple's greatest iOS so far, and you simply cannot wait till fall for the official launch – the answer is iOS 12 Public Beta. The non-developer-beta-version of iOS 12 is officially released by Apple today, and it will be compatible to all Apple products that are prefixed with an 'i'. Now, if you are bored and you want a summer drizzled with software bugs, feel free to download iOS 12 Public Beta through Apple's beta software program website – don't worry, this isn't that crafty trick to get you a non-paying-self enrolled beta version of iOS, it is officially downloadable.
Now if you are firm with your decision to go ahead with beta, some deals need to be taken care of before setting foot on the beta land for your software adventure – BACKUP. Make sure to have the latest backup because with beta, we never know what might happen with beta. So go for iCloud backup or the good-old manual iTunes backup – both are equally solid. That being said, all you need to do is get your hands on Apple's beta website and tap "sign up" or "sign in" (works best with Safari on iPhone). Upon authenticating, you will be provided with a link to download a beta profile to your device and as part of installation – your device might restart.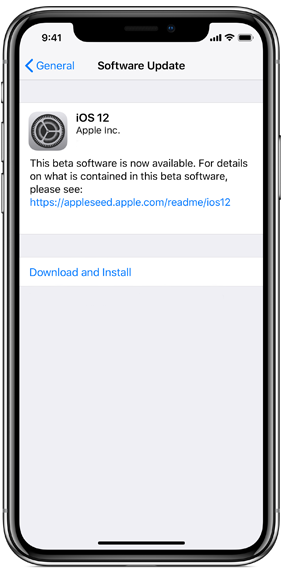 Once that is done, your device needs to be connected to WiFi, then pull up the Settings menu, tap on General and check if you have a software update – just like one does to make regular iOS, you know the drill. Now just download and sit back to let iOS 12 beta install itself on your device. Generally, it is advisable to not use a beta version of OS on your primary device due to lack of stability and trustworthy functioning – but if you really cannot wait till September, and enjoy all the new fancy iOS 12 features before the world does, even if that slows down you phone.