Rajkot: The Indian Air Force securely cleared a woman, her new-born twins and another pregnant woman from Nana Matra village in Vinchia Tehsil of Rajkot district of Gujarat, which was flooded because of heavy rains.
The village which is situated in the low lying zones of Gujarat close Bhadar river was cut off from rest of the district because of the floods.
When a message about need to evacaute two ladies who were in basic condition and 'going to deliver' was gotten at 4.30 pm, a Chetak helicopter was sent from Jamnagar, said safeguard representative Abhishek Matiman in a discharge.
It required scarcely in any season for the prepared heads and hands at work at HQ SWAC Gandhinagar planning Human Assistance and Disaster Relief operations in the zone in picking a Chetak helicopter for this specific operation – owing to its much lesser All up Weight when contrasted with a MI-17V5.
The helicopter at that point came back to Nana Matra, this time getting the other pregnant woman who was bleeding lavishly. She was flown over the river where a medical group was holding up with an ambulance, it said. Relentless rains have been lashing Gujarat throughout the previous two days.
The India Meteorological Department on Sunday said that the state is probably going to encounter a dynamic wet spell throughout the following four days. Here's a rundown of the day savvy forecast and notices in Gujarat, Daman, Diu and Dadra and Nagar Haveli.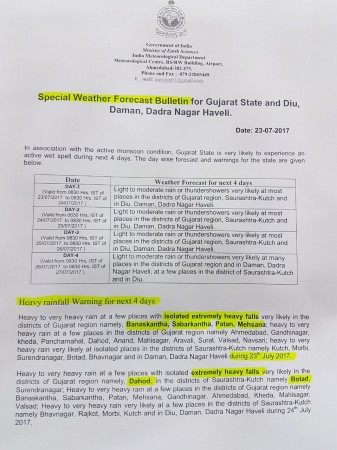 Gujarat has so far gotten right around 56.61% of the aggregate expected rainfall.