Nandan Nilekani's decision restored Infosys's share to 4.6% up-arrow in intra-day on Monday, closed at Rs 941.15, 3.14% up.
India's flagship IT firm Infosys broke-down by a huge figure as ex-CEO Vishal Sikka announced resignation ahead of internal problems. Basically, it was going on since long-time according to the media sources, Vishal blamed founder's group for his un-willing step.
Share market observed large scale downside as Infosys is the key player of market and various other financial assets. Many companies like Reliance, Birla asked to take proper steps for market restoration where the majority funds lie.
On Thursday's closing, the company's market capitalisation stood at Rs 2.09 lakh crore, which jumped to Rs 2.16 lakh crore after Monday's trade.
Shares of company plunged by 10% as Sikka exits with Rs 32,000 Crores of investment eroded in a short time, after recovery, it is now closed at Rs 912.50. Various market experts believe that return of Nandan Nilekani will gain Infosys gradually where his long-stay may boost the company and country's economy both.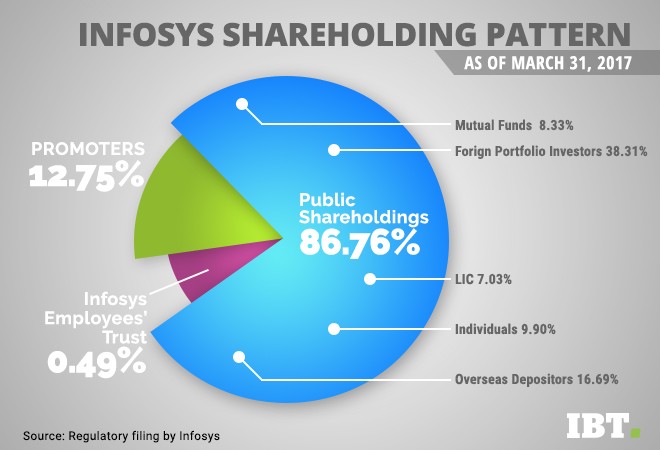 Image Credit: Infosys, IBT (Design)
As soon as taking charge, Nilekani calls board and other senior official's meeting to set long-term goal and reset the immediate priorities to help company for fruitful governance. He has rebooted the company's business strategy, especially focusing the software export outside the India.
One of the strong points is, Nandan Nilekani was one of the seven founders who built and nurtured the company, 35 years ago. He served as the CEO and MD of the company between 2002 and 2007, during his five-year tenure as CEO, Infosys' topline grew six-fold to $3 billion.
Investors' hope is still positive to regain the value they lost with Vishal Sikka's exit. Not immediate but definite situation called by market experts.