Jitesh Singh Deo has been crowned as Mr India 2017, by Peter England and has now qualified to represent India in Mr World for 2020. Unlike Anil Kapoor's movie character as Mr India, Deo is not going out of sight anytime soon as he has a long way ahead.
**advertisment**
Born and brought up in Lucknow, 22-year-old Jitesh Singh Deo is a model by profession and also a student of Indraprastha Engineering College, loves swimming, acting, travelling and outdoor sports activity. On December 14, Deo beat all 16 finalists from different parts of India to become Peter England Mr India World 2017. All 16 contestants were adorned in designer clothes designed by ace fashion designer Manish Malhotra. The contest was judged by Bollywood actress Kangana Ranaut, designer Manish Malhotra, tennis player Mahesh Bhupathi among other.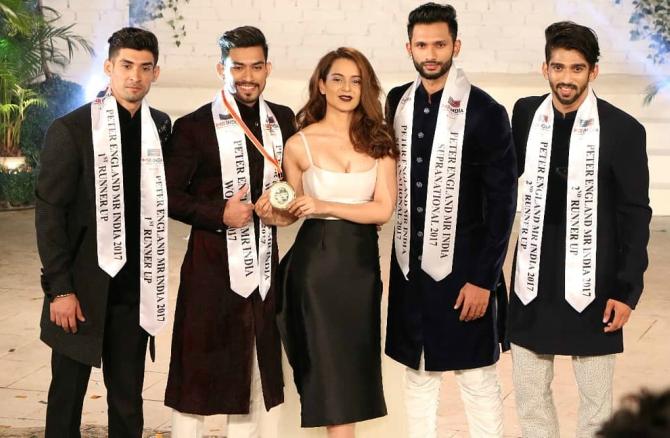 Mr India Deo's journey hasn't been easy as he has undergone months of intense training and followed strict regimes. Interestingly, Rohit Khandelwal, who is the winner of last year's Mr World contest, was Deo's mentor to prepare for the prestigious contest. This wasn't Deo's first attempt in the contest as he had earlier participated in Mr India 2015 contest. After rigorous training and workouts, the grand finale was held at Bandra Fort in Mumbai, sponsored by Peter England. After winning the prestigious title, Deo vowed to give his best in the Mr World contest and make India proud as it is now his responsibility.
This year's Mr India comes with high aims of winning the Mr World contest for India once again, and also wants to pursue his career in acting. Deo also aspires to win the Oscars someday. But what set Deo apart from others was his life motto: "Be the change you want to see in the world." The first runner-up at Mr India contest this year, was Abhi Khajuria from Chandigarh was the first runner-up and Mumbai's Pavan Rao, an actor, dancer and model, was named the second runner-up. Apart from that, Prathamesh Maulingkar, a model and entrepreneur from Goa, won the Mr India Supranational 2017 title.