Duchess Meghan Markle has been identified as a unique personality since the beginning of her exposure to the mainstream media and she keeps up this unique image all through the way. Recently she broke a so called fashion rule and is is news again for her incredible and particular fashion choice.
The Duchess of Sussex has been wearing designs from different fashion designers including American, British, as well as French designers continually experimenting with mainstream fashion trends. Attending a charity event at Loughborough University in Leicestershire, Meghan wore black trousers paired with a dark blue, belted top. She chose an Oscar de la Renta top worth £1,636 and paired it with Altuzarra trousers  worth £495. Along with this outfit she wore a pair of Aquazzura heels worth £420. She didn't only break this rule of not wearing two dark hues together, but she also played some ball games in those four inch heels.
Seems that these designers very dear to Meghan as she has frequented Oscar de la Renta, Carolina Herrera and Altuzarra in the past. More surprisingly, Meghan effortlessly slayed the netball game in her high heeled stilettos that she'd paired with her outfit. By this Meghan has definitely proved one thing, that she's not afraid to break the fashion rules and select her looks in her own way. She has made her way out of the typical royal women clothing trends marking her territory in the royal fashion. Most of the  royal ladies avoid pant-suits but Meghan seems to like them a lot.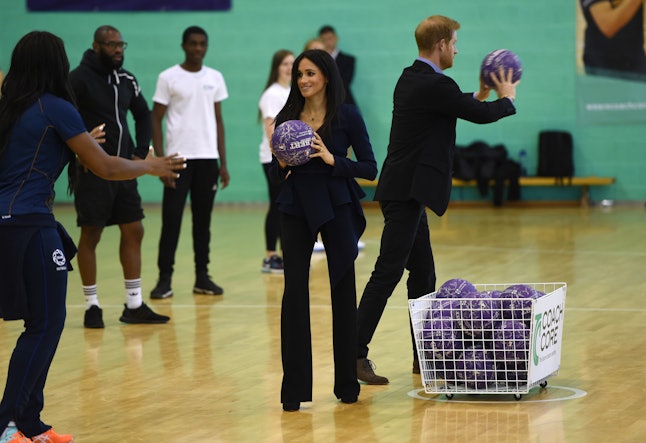 Talking about the opinions and remarks on Meghan's dress, Dean Handspiker the vice president of design at men's suit company Indochino, said that one can surely combine dark hues like black and navy. Talking to the HuffPost he said that if one chooses to wear dark colors together, the look has to be intentional and perfectly polished. If we don't take the details into consideration, or if the fabrics are not in, your looks ain't going to be any good.
One of the magazine's style editor, also backed it up saying that, it's just one of those old and obsolete fashion rules. Now pairing of dark hues definitely works. Also, If the colours are almost similar, it's definitely a good idea to use them next to or on top of each other to make their differences are more apparent. Moreover, Combining pieces with different textures or fabrics like leather with denim, silk with wool, etc. will also help.