Foldable screens on smartphones is the next big thing and are coming soon, as Motorola has been granted a patent for foldable smartphones with a thermal element hinge that will solve the problem of screens being deformed at the fold.
If rumours are to be believed, Samsung is likely to launch its Galaxy X smartphone in early 2019 – the foldable smartphone because it is the next big thing in the tech world. However, a major problem with folding screen handsets is that actually folding a screen repeatedly can create a visible crease at the fold and deform the screen. Not only does that not look good, but it can damage the functioning of the screen as a whole. It was Motorola who came with a possibly potential solution that is a "method to recover permanent set in a foldable display" – for which, the company has received a new patent and might soon dive into the foldable screen bandwagon.
Motorola's new patent proposes a method that can prevent the deformation of foldable screen at its hinge using thermal element and sensors in the foldable part. The sensors will detect the crease on screen when the device is completely flat with the screen off, and if any deformation is detected, it will activate the thermal element. Upon receiving activation command, the thermal element will heat up the hinge and remove the creases – which the company calls to be "semi-permanent deformation" on foldable screens. This process might not be needed every time one folds and opens the screen, but it will activate once it surpasses the predefined time limit, and enter into recovery mode as soon as it is unfolded.
Here's the patented design: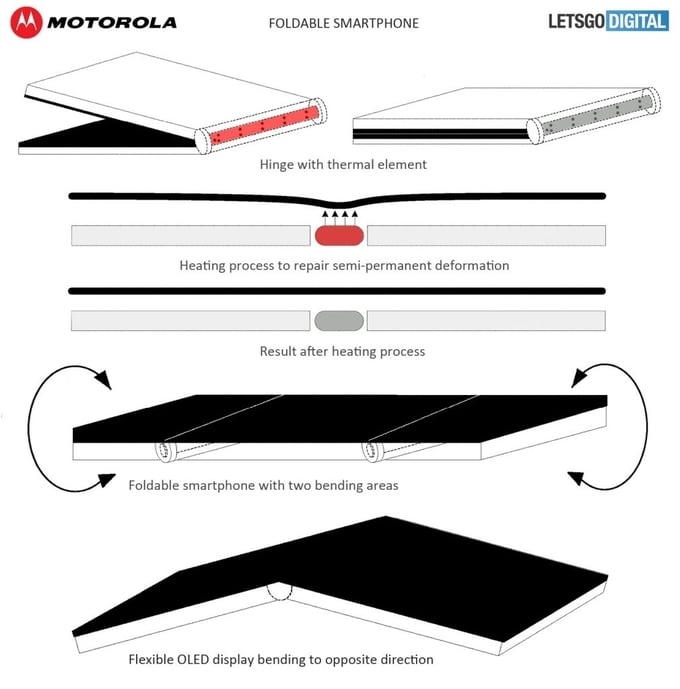 As magical as this might sound, Motorola now holds the patent for this technology and it could revolutionise the futuristic foldable screens. But, it is not necessary because this too, might be one of those patents which might never be used in any product. Looking into the developments, chances are that Samsung and LG would be the first companies to introduce foldable smartphones; even Apple is working on developing foldable iPhones by 2020. The Chinese too are working on a foldable flagship phone and Huawei might launch one later this year – it is likely that they might beat the punch to become the first.