A luxury yacht from Porsche will spark your excitement when you have a dream cruise for a lifetime. Porsche launched hybrid yacht with Dynamiq.
Well, the price is just $16 Million to buy this yacht. It features elegant look, stellar performance and lavish design with superb interior to make your bank account almost empty. Studio F.A. Porsche, the automaker's design house has gone a step ahead and outdone itself to provide you with a bigger dream object – A Hybrid Superyacht.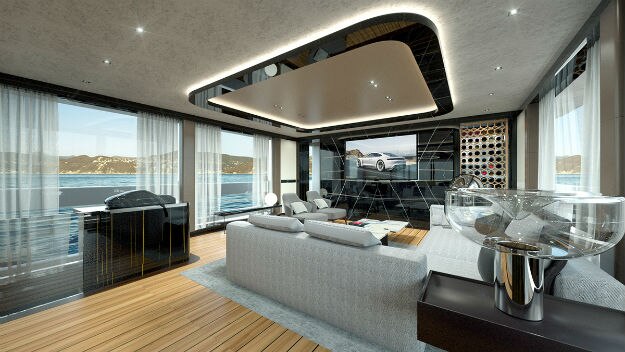 Image Credit: Dynamiq
The yacht is named GTT 115 which made its debut on September 27 in Monaco Yacht Show. It measures 35m (115 ft.) with Rhodium Grey metallic paint giving it a classy yet fantastic look. Dynamiq & Studio F.A. have made this yacht a super comfort from every corner. It offers an impressive fuel consumption of 3,400 nautical miles and can cruise 21 knots at a time.
Catching the attention of millionaire cruise lovers, this yacht is initially available in Viareggio and Italy. Starting from $16.7 Million, you will feel stunner look, lavish on-sea journey and 7-star living experience.
Have a look at video: