Attention Salman Khan fans, now you have one more way to display your obsession with the Bollywood superstar as Khan's upcoming movie – Tubelight gets its own Twitter emoji. This is the first Bollywood film to get its own emoji on Twitter.
It's a special day for Salman Khan's Tubelight. After an intriguing teaser, the makers will release the Radio song today and because director Kabir Khan announced that Tubelight has a Twitter emoji now. Salman Khan's new emoji as Laxman from 'Tubelight' has been added on Twitter and it has already grabbed people's attention. Film's director Kabir Khan took to his official Twitter account and introduced the new emoji.
Happy to announce tht Tubelight becms the FIRST Bollywood film with its own character emoji #TubelightKiEid! @BeingSalmanKhan @TwitterIndia

— Kabir Khan (@kabirkhankk) May 16, 2017
The new Tubelight emoji has been added on the microblogging site and the innocence on Salman's face will make the many users of Twitter connect to his character immediately. Soon, the actor himself retweeted the original tweet by Kabir Khan and here is the tweet:
.@kabirkhankk Twitter ko full light kar dega ab yeh #TubelightKiEid emoji! @TubelightKiEid @amarbutala @TwitterIndia https://t.co/4lsnGhXGaj

— Salman Khan (@BeingSalmanKhan) May 16, 2017
The official teaser was release on May 4 and it took an instant hype on social media. The teaser too featured Khan's innocent portrayal as a goofy and emotional character, similar to that in Bajrangi Bhaijan. The movie is to be released on Eid next month on June 23. Set against the backdrop of India-China war, the film also stars Sohail Khan and Chinese actor Zhu Zhu in pivotal roles. Adding to the star power of the film is a cameo by Shah Rukh Khan.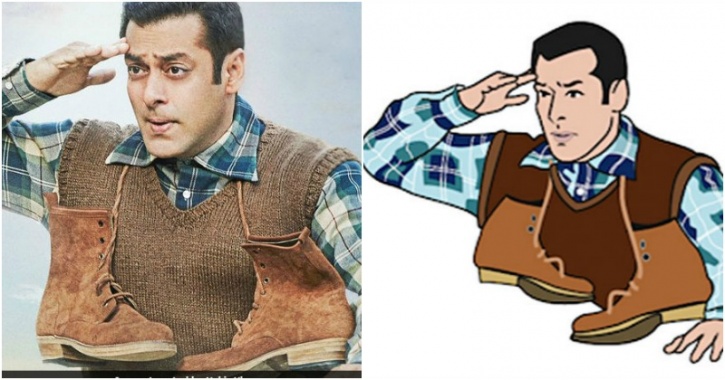 Image Source: Indiatimes
Isn't this emoji an absolute replica!?