A goat has been crowned as king of a small town called Killorglin in Ireland; no, it is not about Narnia – it is as real as it gets! So, what are you doing with your life, huh?
The 'Puck Fair' is called to be one of the oldest festivals of Ireland and as a part of traditional celebration in the tiny town of Killorglin, every year a 'King Puck' is crowned – who then reigns the town for several days. Oh, by the way, the King Puck is always a wild mountain goat – what a lucky guy; I mean, goat. Wearing a prestigious crown, the goat king rules as long as the festival lasts and he is paraded through the streets of town in a high royal cage carriage. Now, a king must be accompanied by his queen, right? The Puck King gets his queen too! No, she's not a goat; in fact, she is a local schoolgirl called the Queen of Puck. This year's Queen of Puck honour was bestowed to 12-year-old Caitlin Horgan. Here's the girl – Puck Queen.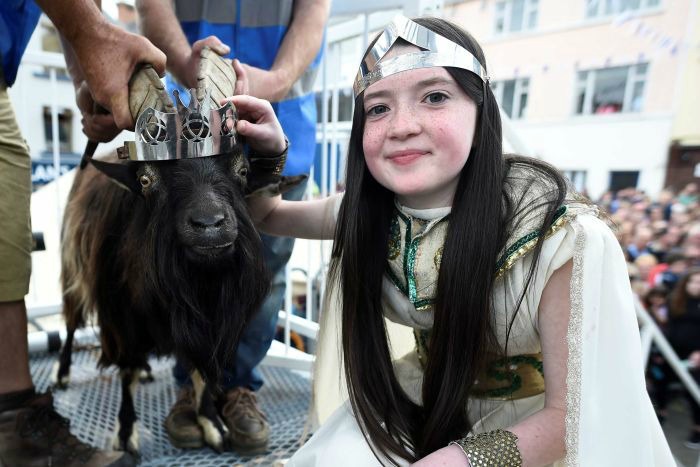 The origin of Puck Fair is unknown, but theories range from harvest celebration to the story of a single goat fleeing from wicked king Oliver Cromwell's troops into the village – that strangely justifies the whole Puck King theory but what's with the girl? Anyway, since the Puck King is a king, his diet will but naturally be regal too – ash tree branches, cabbage and water; hey, that's regal in goat world. Puck Fair celebrated on August 11 and 12 every year may all seem unusually weird to many, but the tradition is followed since over 400 years and will persist until, let's hope – eternity.
When not in parade, the king is allowed to rest in his royal little cage on the top of a tall tower in middle of the town square, where he is kept for the duration of the festival – three days. Apart from the parade, there is a horse markets organised on first day and a cattle market on the second say; and also music, street performances and a hell lot of drinking and carousing for men and women. The entire fair is quiet famous and people from entire country as well as Britain and Scotland flock up to join the offbeat, historic festival. As per authorities of Killorglin, they are expecting over 100,000 visitors this year! Now that's something. Let's just say – Long live the Goat King of Ireland. (Feels like Narnia, just a little goatish)