On Thursday, the United States Department made a global open offer of giving $1 million reward to anyone who provides legitimate information about the son of Al-Qaeda leader Osama bin Laden – named Hamza bin Laden.
After the United States Special Forces claimed the successful execution of Al-Qaeda leader Osama bin Laden in 2011, the location of his son Hamza bin Laden, aged around 30 years old has been a subject of speculation for the American intelligence agencies since years. Osama bin Laden's three surviving wives and his children were quietly allowed to return to Saudi Arabia after his killing; but the whereabouts of Hamza – who is sometimes referred to as "crown prince of jihad", has been unknown since years.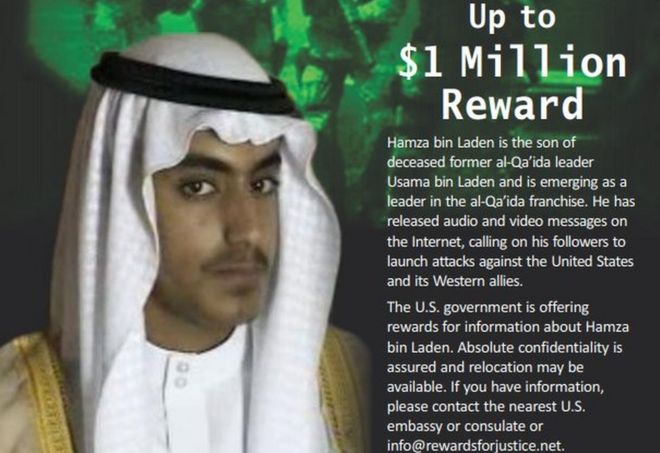 There have been reports of Hamza residing undercover in Pakistan, Afghanistan, Syria, and under house arrest in Iran – but the agencies have been unsuccessful to trace him down. The US sees Hamza to be the rising successor of his father for the mantle of global jihad, especially after he released an audio message asking jihadists to stay united in Syria to achieve the goal of liberating Palestine. The US agencies have also claimed to have received threats from Bin Laden for avenging his father's killing in Pakistan.
Currently, the US intelligence offices are on search for the son of Osama and on Thursday, the United States Department announced a reward of $1 million to anyone who provides details about the location of Hamza bin Laden. Along with the million dollar prince, the US ensures confidentiality and relocation options to the informer. It is quoted that in case "you have the information, please contact nearby US embassy or consulate as soon as possible – and "get your reward for justice" from the US.